Two new amphibious dock transports, ARLINGTON (LPD 24) and ANCHORAGE (LPD 23), sailed together last week while conducting sea trials in the Gulf of Mexico.
Both ships are products of Huntington Ingalls Industries, but were built at different shipyards. ANCHORAGE is the next-to-last ship built by the Avondale yard near New Orleans, which will close next year after delivery of the SOMERSET (LPD 25). ARLINGTON comes from the Ingalls yard at Pascagoula, Miss., which will assume all major non-nuclear ship construction for HII when Avondale ceases operations.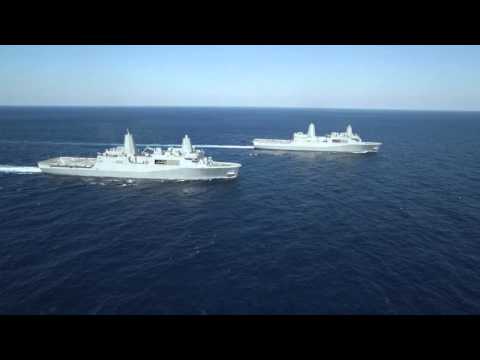 The ARLINGTON, in the foreground here, was underway on Nov. 2 for her acceptance sea trials. Officials from the U.S. Navy were on board to certify a wide variety of systems prior to accepting the ship from HII.  The trials include checks of the main propulsion engineering and ship control systems, combat and communications systems, damage control, various mission systems, food service and crew support, and the electronic backbone of the ship, its Shipboard Wide Area Network.
Several demonstrations require a second ship at sea for communications.  For the first time in the class's history, that partner was another LPD 17 class ship, the ANCHORAGE, which was en route to its home port of San Diego.
ANCHORAGE, the seventh ship of the LPD 17 class, will be formally commissioned next year in Alaska at her namesake city.
ARLINGTON is to be commissioned in April at her home port of Norfolk, Va.
The ARLINGTON, in front, was built at HII's Ingalls yard in Pascagoula, Miss., while the ANCHORAGE was built at the company's shipyard at Avondale, near New Orleans. 
If it's on, over, under or around the water, I write about it. Ships and aircraft, units, tactics, leadership, strategies, acquisition, politics, industry. In the USA and around the world.
Latest posts by Christopher P. Cavas (see all)