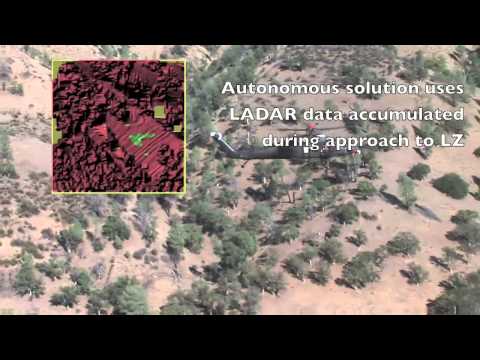 On Nov. 5, the U.S. Army managed to fly a Black Hawk helicopter around the  Diablo Range  in California for two hours with no pilot at the controls — marking the first time that a Black Hawk had flown autonomously.
The service's Aviation and Missile Research, Development and Engineering Center (AMRDEC) said that the chopper showed that it was capable of obstacle field navigation and safe landing area determination, while its ability to sense and respond to the terrain, conduct statistical processing, risk assessment, threat avoidance, trajectory generation, and autonomous flight control all passed the test.
"This was the first time terrain-aware autonomy has been achieved on a Black Hawk," said Lt. Col. Carl Ott, Chief of the Flight Projects Office at AMRDEC's Aeroflightdynamics Directorate said in a release.
The JUH-60A Black Hawk was equipped with a 3D-LZ LADAR for terrain sensing, and "a risk-minimizing algorithm was used to compute and command a safe trajectory continuously throughout 23 miles of rugged terrain in a single flight, at an average speed of 40 knots," Matthew Whalley, the Autonomous Rotorcraft Project lead added.
The aircraft kept up a steady altitude of 200 and 400 feet above ground level during the test, while the onboard software was able to find a safe landing spot within a forest clearing, hitting its target within one foot accuracy.
McLeary covers national security policies at the White House, Pentagon, the Hill, and State Department.
Latest posts by Paul McLeary (see all)