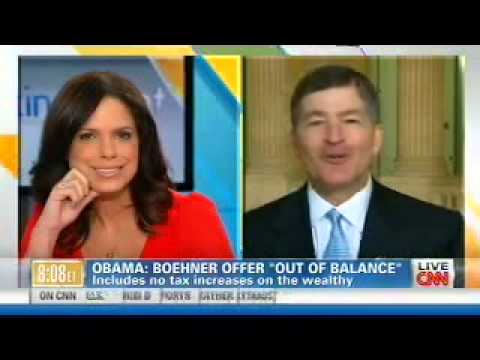 The conventional wisdom in Washington's defense and political sectors as the sun rose yesterday (Wednesday) went something like this: President Obama and GOP House Speaker John Boehner had ceased negotiations, making the likelihood of economic chaos and deep defense cuts more likely than ever. But that changed by sunset.
If Washington steers the nation clear of the so-called fiscal cliff and an across-the-board $500 billion cut over a decade to a handful of non-exempt Pentagon accounts, remember Dec. 5, 2012.
The first sign of movement away from the cliff came just after 8 a.m., when Rep. Jeb Hensarling, R-Texas, told CNN (see video above) "the president's going to get some kind of revenue. I'm not voting for it. But he's going to get it anyway."
Hensarling quickly demanded those new revenues be accompanied by federal spending cuts that, he says, Obama "hasn't put .. on the table."
The good news for the defense sector: More and more Republicans seem willing to hold their noses and accept some new revenue. The bad news: They are demanding sending cuts while no longer in those demands bold statements that the Pentagon budget — which passes $600 billion when including war funding — not be used to find them.
Just a few hours later, there was another sign of movement away from the cliff and the automatic defense cuts. President Obama suggested in remarks at the Business Roundtable that he would be willing to negotiate with Republicans about just how much tax rates for the wealthiest Americans might be increased as part of a deficit-reduction package.
Then, just shy of 3 p.m. EST, Boehner's office issued a carefully worded statement that included this telling line: "The president's own words confirm that the responsible proposal put forward by Republicans can be implemented in a manner that meets the president's own standards."
With that, it seemed the negotiations had suddenly re-started. Confirmation of that came shortly after when word leaked that the president and speaker had spoken over the phone.
Collectively, this bred fresh optimism that the two sides were suddenly moving toward a deal to avoid the cliff and the automatic defense cuts. Obama even said this: "We can probably solve this in a week."
This all amounts to good news for the defense sector, because it could mean 9 percent cuts to planned spending for a handful of non-exempt Pentagon account will be avoided.
But as you're reading this in your Pentagon offices and industry cubicles, don't break out the fine champagne just yet. The debate is shifting — slowly — away from tax rate hikes for 2 percent of American tax payers and toward spending cuts.
"The question is where are his spending reductions?" Hensarling asked on CNN. "He hasn't put that on the table."
The House speaker also is looking for spending-cut targets.
"The president talks about a balanced approach, but he's rejected spending cuts that he has supported previously and refuses to identify serious spending cuts he is willing to make today," Boehner said in the statement. "This is preventing us from reaching an agreement."
The issue of defense cuts in recent weeks suddenly vanished from the fiscal cliff debate. Will the massive Pentagon budget soon be dragged back into the search for a pre-Christmas deal, as a sacrificial lamb?
Bennett is the Editor of Defense News' CongressWatch channel. He has a Masters degree in Global Security Studies from Johns Hopkins University.
Latest posts by John T. Bennett (see all)