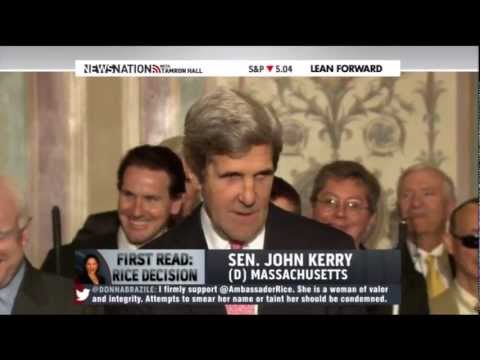 As the partisan battle over avoiding the fiscal cliff and deep defense cuts raged around them, two of America's most recognizable senators took part Monday in some good-natured ribbing. But was the guffawing really a key political endorsement?
Sen. John McCain, R-Ariz., got the barbs and chuckles started when he took to the microphones after being introduced by Sen. John Kerry, D-Mass., during a press conference about a disabilities treaty.
"Thank you, Mr. Secretary," McCain quipped, an apparent reference to Kerry interest in replacing Hillary Clinton as secretary of state. It also seemed to be something of an endorsement of Kerry for the job. After all, McCain has led the way as congressional Republicans have intensely opposed the individual President Barack Obama might prefer to become America's top diplomat: U.N. Ambassador Susan Rice.
Kerry didn't let the barb go, unleashing his own moment later when he returned to mics.
"Thank you very much, Mr. President," Kerry said to McCain, who lost the 2008 presidential campaign to Obama. McCain can be seen laughing behind him.
The potential next secretary of state (or maybe defense), then added a bit of self-deprecation.
"This is what happens when you get two losers up here," Kerry said, turning to hug McCain as they shared a laugh.
Bennett is the Editor of Defense News' CongressWatch channel. He has a Masters degree in Global Security Studies from Johns Hopkins University.
Latest posts by John T. Bennett (see all)