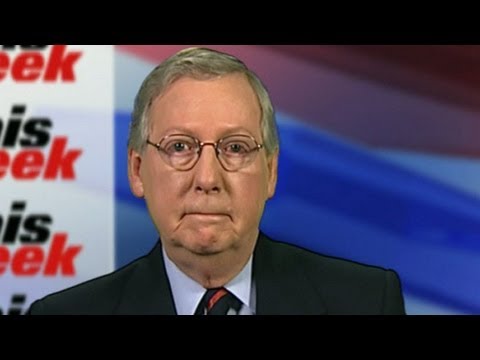 The Senate's top Republicans on Sunday struck a good cop-bad cop tone about the expected nomination of former GOP Sen. Chuck Hagel to become defense secretary.
On ABC's "This Week" political talk show (Hagel portion begins at the 9:00 mark), Senate Minority Leader Mitch McConnell, R-Ky., he intends to "wait and see how the hearings go and see whether [Hagel's] views square with the job he would be nominated to do." He added:
The GOP leader said he wants to "take a look at all the things that [Hagel] has said over the years and review that, and in terms of his qualifications to lead our nation's military."
That sounds fair, right? Good cop.
Contrast McConnell's wait-and-judge approach to that espoused Sunday by his top Senate deputy, GOP Sen. John Cornyn of Texas.
"I will not support Chuck Hagel's [expected] nomination to the Department of Defense. His record and past statements, particularly with respect to rogue nations like Iran, are extremely concerning to me," Cornyn said in a statement. "His opposition to Iranian sanctions and support for direct, unconditional talks with its leaders is both at odds with current U.S. policy and a threat to global security. To make matters worse, he has called for direct negotiations with Hamas.
"As Iran becomes increasingly hostile and gains influence in the region, the worst possible message we could send to our friend Israel and the rest of our allies in the Middle East is Chuck Hagel," Cornyn said.
Zero in on "to make matter worse" ad "the worst possible message" parts: Bad cop.
McConnell can appear above injecting politics into Hagel's nomination process, while Cornyn — a longtime Senate Armed Services Committee, though he might give up his seat to focus on his new Senate Minority Whip duties — can lead the Republican attack and attempt to sink Hagel's nomination.
Republicans want a fight with President Obama over the expected nomination. They are upset with Hagel for breaking with the George W. Bush administration and fellow Republicans in 2006 over the Iraq war, and concerned that he would push for more distance between Washington and its close ally Israel.
Congressional Republicans have focused much of their hits on Hagel so far on a 2008 interview he gave to author Aaron David Miller. During that interview, the former Nebraska senator said, "the Jewish lobby intimidates a lot of people" on Capitol Hill. Hagel also said as a senator he never remembered signing policy letters circulated among lawmakers by AIPAC, Washington's leading Israeli advocacy group, because he was "a United States senator … not an Israeli senator."
Some Republicans have questioned Hagel's comments in recent years about shrinking the Pentagon's annual budget. The former senator thinks it can by shrunk. And yet other criticisms have come from more moderate voices like the influential Washington Post editorial board, which on Dec. 18 noted Hagel's views on many major issues "fall well to the left" of those Obama enacted during his first term.
Hagel supporters have since fired back, but some in Washington wonder whether too much damage has been for 61 senators to vote in favor of his nomination on the Senate floor.
One thing is for sure as Washington awaits a formal nomination announcement: The McConnell-Cornyn good cop-bad cop approach shows Senate Republicans have the backing of their leaders to wage a likely bloody political battle with the White House over inserting Hagel as the Pentagon's civilian boss.
Bennett is the Editor of Defense News' CongressWatch channel. He has a Masters degree in Global Security Studies from Johns Hopkins University.
Latest posts by John T. Bennett (see all)