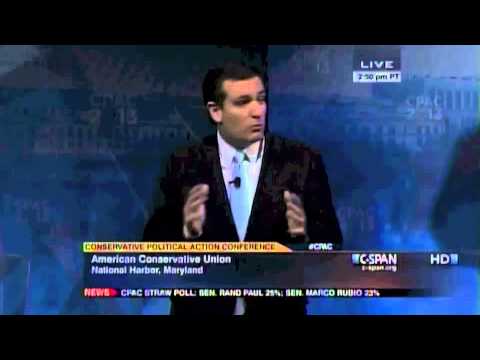 Firebrand freshman Senate Armed Services Committee member Ted Cruz, R-Texas, embraced deep cuts to annual Pentagon spending Saturday during his keynote Conservative Political Action Conference (CPAC) address.
"For the last three weeks, conservatives have been winning, and we're winning because of you," Cruz said to applause, leading off his remarks. "We're winning right now."
What started the perceived winning streak? Sequestration.
"We're here in Washington at a momentous time," a serious-looking Cruz said. "And I mean, of course, the sequester."
(Audience Laughter)
Cruz went on to applaud the crowd for being able to "stand" and function despite, because of the across-the-board defense and domestic spending cuts, their dinners the previous evening being "reduced by 2.4 percent."
"I can see the looks of hunger and famine in your eyes," Cruz told the audience. "I honestly don't know how you're able to stand on 98.6 percent of your dinner."
The junior senator from Texas was joking. As far as this correspondent can tell, CPAC receives no government funding and is not subject to sequestration.
His message to those who have warned and griped about the dangers of the twin $500 billion, decade-spanning federal cuts: It's no big deal given the size of the federal budget. And that includes, one must presume, the defense sector.
Bennett is the Editor of Defense News' CongressWatch channel. He has a Masters degree in Global Security Studies from Johns Hopkins University.
Latest posts by John T. Bennett (see all)