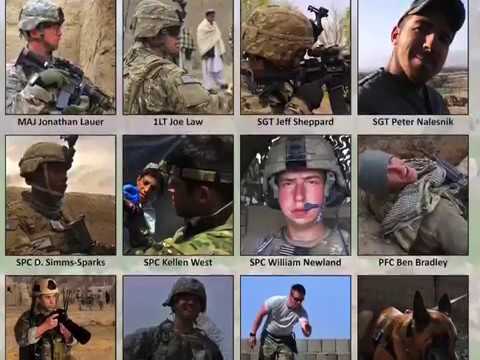 **WARNING** This video is very graphic, and depicts men under fire at Operation Red Sand in Bala Murghab, Badghis Province, Afghanistan, April 4, 2011. This audio depicts the actual moment Army Sgt. Jeff Sheppard, Pfc Ben Bradley, Air Force Master Sgt. Kevin Wallace, Navy Petty Officer 3rd Class Ryan Lee, and Navy K9 'Valdo' were wounded by an RPG.  (Photos and Video by USAF Master Sgt. Kevin Wallace)
The video above was produced by USAF Master Sgt. Kevin Wallace, along with his retelling of the events it captures below.
"Today marks two years since a team of 7th Squadron, 10th Cavalry Regiment scouts, a few Navy augmentees and I fought a well-trained, well-equipped and outnumbering enemy in northern Bala Murghab (BMG), Badghis province.
The reality is any airman, sailor or coastie at any time can be tasked with augmenting the Army or Marine Corps ground forces, and you could find yourself in a situation you've never imagined."
Check out more of Wallace's account after the break
——-
"April 4, 2013 BALA MURGHAB, Afghanistan — For some, coming home means flag-waving crowds, cheers and parades. For others, there is no real coming home, just a struggle to adapt to who they've become and make sense of what they'd done.
I'm an Air Force photojournalist, a Wounded Warrior and Purple Heart recipient, and not ashamed to admit it. I've been involved in numerous combat engagements in the mountains of Afghanistan, yet recently I feel like every sacrifice made by those I love have been nullified as the coalition pulls out of the valley we primarily operated in.
This is a struggle for me.
What keeps me going is the hope that by sharing our stories, perhaps you'll somehow further dedicate yourself to readiness and become more resilient."
Read the entirety of Wallace's story at
DVIDS.
Senior Staff Writer
at
Defense News
Zach is the State Department correspondent, cyberwarfare, research & development and business reporter for Defense News.
Latest posts by Zachary Fryer-Biggs (see all)