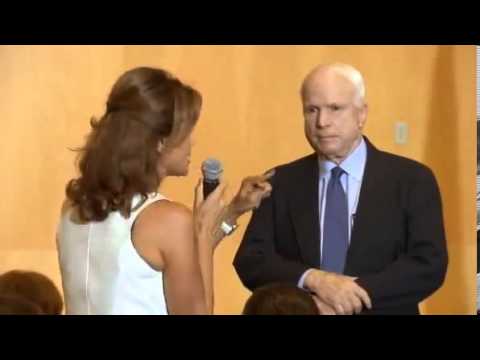 US lawmakers from both parties and all corners of the nation this week have voiced agreement that their constituents are overwhelmingly against a military strike in Syria.
The calls and emails have flooded into Washington this week from California to the office of Democratic Senate Intelligence Committee Chairwoman Dianne Feinstein. Democratic Senate Armed Services Committee Chairman Carl Levin reported the same of his Michigan constituents, as did Republican Sen. Jeff Sessions of his Oklahoma voters.
Washington's chief interventionist, Sen. John McCain, R-Ariz., found out first hand on Thursday just how opposed many Americans are.
Polls show nearly 80 percent of Americans oppose military strikes.
Media reports and YouTube videos show Americans are skeptical about whether Syria's civil war, even if chemical weapons kill thousands, is a U.S. national security issue. They are voicing concerns about America becoming mired in another protracted Middle East conflict. And they're not so sure Washington can afford it.
Those were just some of the concerns McCain heard during what the Associated Press dubbed a "feisty" town hall with constituents.
One Syrian woman stole the show, passionately lecturing McCain for several minutes. At one point, she told the hawkish McCain that she prefers using "diplomacy and negotiating — not bombs, Sen. McCain!"
Defense News' corporate sibling, The Arizona Republic, identified her as Jumana Hadeed, reporting she is a Syrian-American who resides in Phoenix.
"We cannot afford to shed more more Syrian blood," Hadeed said.
She told McCain she has an 18-year-old Syrian cousin she said was killed recently "by the so-called rebels and al-Qaida." To McCain, Hadeed pleaded, "We cannot afford to turn Syria into another Iraq or Afghanistan.
"Enough is enough," Hadeed roared, garnering hearty applause from her fellow Arizonans. "We do not want another engagement in the Middle East. We do not want al-Qaida to take over" if Assad is ousted, she added.
McCain thanked the woman for her "passionate" and "compelling" comments. But he took umbrage with her implication that an Assad-led secular government would be better for ordinary Syrians and the region than one more aligned with the belief structure of al-Qaida.
Other Arizonans offered similar thoughts. Click here for a YouTube gallery of McCain's tough night in Phoenix.
Bennett is the Editor of Defense News' CongressWatch channel. He has a Masters degree in Global Security Studies from Johns Hopkins University.
Latest posts by John T. Bennett (see all)