It was a rainy Oct. 11 at Newport News Shipbuilding in Newport News, Va., but spirits remained high as the future USS GERALD R. FORD (CVN 78) was floated for the very first time. Four years after construction began in a huge graving dock, ship's sponsor Susan Ford Bales, daughter of the late president,  pushed a series of buttons to start the flow of more than 100 million gallons of water into the dry dock. 
The flooding of the dock takes place in phases during which various tests are conducted. Initially, the dock is flooded about 4 feet high to its keel blocks, wood-capped concrete pads on which the ship has been supported during construction. Once the dock is fully flooded and initial afloat testing is complete, water will be partially pumped out and the ship returned to her keel blocks in anticipation of the ship's christening on Nov. 9. The FORD will float again about a week later when it will be moved to a pier for outfitting.
While the "float off" isn't nearly as dramatic or sexy as an old-fashioned slider launch — more like filling a large bathtub — it gets the job done with a minimum of stress on the ship's hull. Time lapse photography helps as well — but it'll be a bit longer before that video is available.
The last edition of New Ship News is here.
Another float off took place on the other side of the country on Sept. 15, when the new Mobile Landing Platform USNS JOHN GLENN (MLP 2) was floated at the General Dynamics National Steel and Shipbuilding yard in San Diego, Calif. The MLP, adapted from an oil tanker design, features a large, flat deck upon which a variety of smaller vessels can be stored and carried. The ship will be able to ballast down and float off its cargo.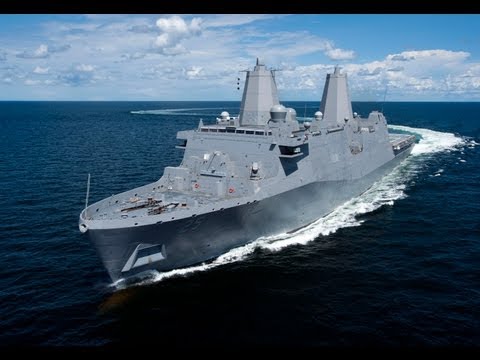 If it's on, over, under or around the water, I write about it. Ships and aircraft, units, tactics, leadership, strategies, acquisition, politics, industry. In the USA and around the world.
Latest posts by Christopher P. Cavas (see all)