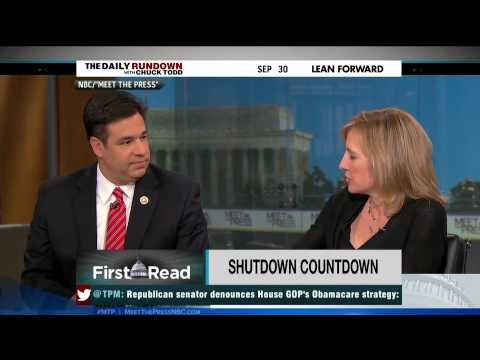 Things are getting worse than nasty in Washington as a federal government shutdown enters its third day. In fact, things are getting worse than bitterly partisan. Things are getting personal.
And that doesn't bode well for any movement on either re-opening the government — which affects Pentagon weapon programs and defense firms — nor a pending fight over raising the debt ceiling that analysts warn could hurt U.S. national security. The above Democratic-produced video is evidence of how Democrats are coming after Boehner over the shutdown. And one Democratic senator is taking things to another level.
If you've been around Washington for more than, say, a few days, you're fully aware Sen. Chuck Schumer, the chamber's third-ranking Democrat, is a candid guy. He's also an emotional guy.
And sometimes the combination produces some colorful rhetoric from the senior senator from the Empire State. That's exactly what happened on Wednesday, when Schumer hit GOP House Speaker John Boehner hard over his handling of the House's versions of continuing resolution legislation.
New York's Chuck Schumer, the Senate's No. 3 Democrat, on Tuesday sharply attacked Boehner — turning a policy dispute into a personal affront.
"Now Speaker Boehner is an accomplice in the Tea Party shut down and everyone knows it," Schumer said. "So, he's trying desperately to wriggle out of the hot seat by passing one-off bills and making half-hearted efforts to reopen pieces of the government."
That was nothing. Schumer's punch (pun intended) line was still to come.
"Speaker Boehner's in this position because, sadly, he's become a puppet with Ted Cruz pulling the strings. When Sen. Cruz [R-Texas] told Speaker Boehner to take up a crusade to defund Obamacare, the speaker did it."
Ouch.
Will that kind of broadside help convince Boehner to bring the Senate's version of the CR — which excludes House-passed language defunding Obamacare — to a vote on the House floor?
Or will it just make Boehner and his newfound tea party allies dig in their collective heels even deeper?
(Editor's Note: Check out our article on DefenseNews.com that describes some ways in which Democrats are turning up their political attacks on Boehner over the shutdown.)
Bennett is the Editor of Defense News' CongressWatch channel. He has a Masters degree in Global Security Studies from Johns Hopkins University.
Latest posts by John T. Bennett (see all)