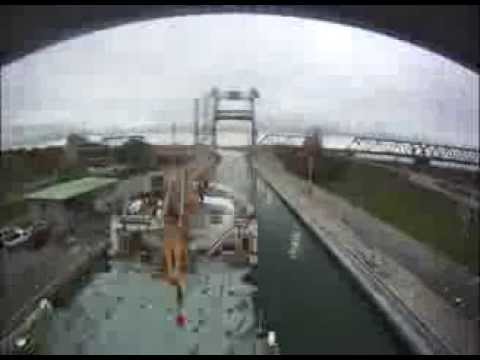 The US Coast Guard seagoing buoy tender HOLLYHOCK (WLB 214) is not known for its speed – unless 15 knots sets your hair on fire. But in late October the crew set up a camera on the bridge that tracked the ship's journey from Baltimore, Maryland, where it had been overhauled, back to its home base in Port Huron, Michigan.
The result is a pretty nifty product. The video starts as the ship is lowered back into Curtis Bay, site of the Coast Guard's only shipyard. The images then skip most of the Atlantic Coast to join up off Nova Scotia, where the tender enters the Gulf of Saint Lawrence in wet weather. Up the Saint Lawrence River, past Quebec City and Montreal, through locks into the Saint Lawrence Seaway.
A favorite section starts at 2:20, as the cutter enters the Welland Canal to transition from Lake Ontario to Lake Erie – eight locks over 26 miles that normally take about 11 hours to get through.  Than it's past Windsor, past Detroit, through to Lake Michigan and home for the HOLLYHOCK – just in time for winter to come in.
If it's on, over, under or around the water, I write about it. Ships and aircraft, units, tactics, leadership, strategies, acquisition, politics, industry. In the USA and around the world.
Latest posts by Christopher P. Cavas (see all)