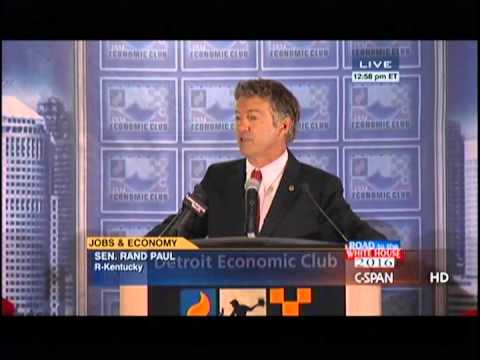 "im·pos·si·ble adjective (ˌ)im-ˈpä-sə-bəl : unable to be done or to happen : not possible"
That's according to Merriam-Webster, the dictionary folks. And it's also the odds Sen. Rand Paul, R-Ky., is giving for Congress to pass a budget resolution.
"It may be impossible," Paul said during a major economic speech in Detroit when asked about GOP lawmakers rallying behind a budget approach.
But he quickly segued into his view about the larger institution's ability to agree on enough parts of a budget to actually pass one.
"We are so far apart philosophically," he said of Democrats and Republicans. "It is very hard to find agreement."
As an example, he pointed to his ideological refusal to vote for any legislation that would raise taxes.
As a House-Senate budget conference committee tries to find enough areas of agreement to produce a 2014 budget resolution that will include, sources say, a two-year budget outline, Paul's prediction casts new doubt on its odds of success.
Among other things, the emerging plan would provide the Pentagon and other agencies with some relief from sequestration in 2014 and 2015.
Will Paul's analysis become a pithy postmortem of how the Ryan-Murray panel's efforts failed? There were signs Thursday that getting a final deal is proving difficult. Analysts acknowledge that even if the committee produces a resolution, it's far from a slam dunk the votes are there to approve it.
To be sure, U.S. lawmakers are dug in on ideological issues that matter most to them. That's largely what has wrecked budget and fiscal legislation in recent years. Should we expect this budget conference to end any other way but by careening into the ditch of Washington's road to political and legislative dysfunction?
(Video: C-SPAN via YouTube)
Bennett is the Editor of Defense News' CongressWatch channel. He has a Masters degree in Global Security Studies from Johns Hopkins University.
Latest posts by John T. Bennett (see all)