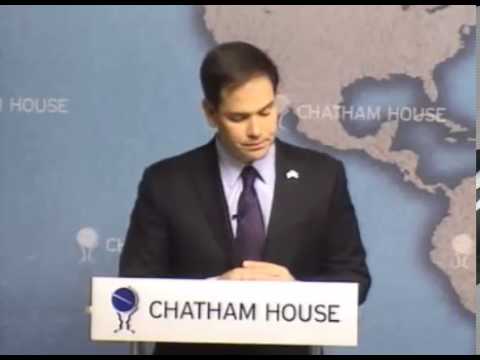 Is Sen. Marco Rubio of Florida running for president? Some of his travels suggest his toes have at least tested those waters.
Not long after the 2012 presidential election, Rubio went to Iowa. The Hawkeye state prides itself as the first-in-the-nation primary — errr caucus — State. And he's given a few high-profile speeches on the D.C. think tank circuit.
As the Senate completes a two-week Thanksgiving recess, Rubio's latest trek also is telling: He ventured across the pond to London. In what was billed as a major foreign policy address, Rubio appeared to be beefing up that part of his potential 2016 presidential candidate resume, including some red-meat rhetoric for his GOP base.
It sure seemed that way, with Rubio hitting those Republican buzzwords: "liberty and freedom." He also warned of "the forces of darkness and evil that would gladly move in to fill the void" left by a U.S.-U.K. decline on the global stage.
In rhetoric the U.S. political right will love, he talked about the two nations' "common destiny."
According to reports –the above video features only his prepared speech — Rubio made a little news by saying he is "personally skeptical" of the preliminary deal Iran struck recently with the Obama administration and other world powers over its nuclear program.
Those comments reportedly came during the Q&A session, with the first-term senator adding Iran is merely seeking to buy time and lacks "a right to enrich [uranium]."
Bennett is the Editor of Defense News' CongressWatch channel. He has a Masters degree in Global Security Studies from Johns Hopkins University.
Latest posts by John T. Bennett (see all)