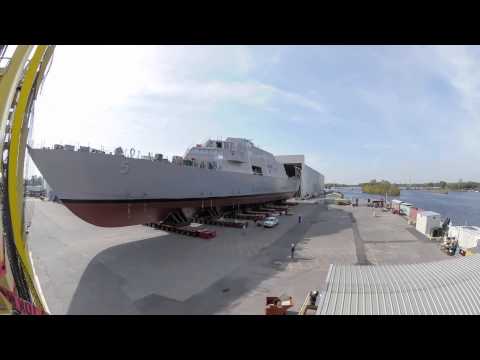 The shipbuilders at Marinette Marine in northeast Wisconsin are getting set to launch another Littoral Combat Ship for the US Navy. This one will be the MILWAUKEE (LCS 5), third ship in the Lockheed Martin Freedom (LCS 1) class.
Built under cover, the ships are rolled out from the shipyard's building shed to lie parallel to the Menominee River. From there, on Dec. 18, Mrs. Sylvia Panetta, wife of former defense secretary Leon Panetta, will christen the MILWAUKEE and an always-spectacular sideways launch will ensue.
Here's a just-released video of the MILWAUKEE being rolled out from the shed, spun around and moved to the launch ways. It's not every day you see a nearly 400-foot long ship being trundled around a shipyard on dollies, but here ya go. 
Lockheed is the prime contractor for the ships, designed by Gibbs & Cox and built at Fincantieri's Marinette Marine shipyard.
Twenty-four LCSs have either been built, are under construction, on order or with contract options in hand — 12 of the Freedom class, 12 of the Austal USA/General Dynamics Independence (LCS 2) class. Of the LCS 1-class ships, Detroit (LCS 7), Little Rock (LCS 9) and Sioux City (LCS 11) are under construction. Wichita (LCS 13) and Billings (LCS 15) were funded this year, Indianapolis (LCS 17) was named. Follow-on options call for four more ships by 2015.
If it's on, over, under or around the water, I write about it. Ships and aircraft, units, tactics, leadership, strategies, acquisition, politics, industry. In the USA and around the world.
Latest posts by Christopher P. Cavas (see all)