It may not look like the advanced aircraft that U.S. pilots fly into combat, but for many young naval airmen the training starts here….
From our friends over at Airforce-technology.com:
In 2006, the US Navy announced it will procure more than 260 of Hawker Beechcraft's next-generation trainer, the Beechcraft T-6B, which is a significant upgrade to the T-6A already in service with the US Air Force. The T-6B builds on the proven safety and performance of its predecessor with more than 480 T-6A aircraft in service having completed over 650,000 hours of student training.
The Beechcraft T-6B's open-architecture, advanced avionics suite, including a Head-Up Display (HUD), mirrors the systems and capabilities of current frontline aircraft, enabling the training of complex advanced systems and information management skills.
With effective training extended up to 180 hours, the T-6B training system allows the introduction of advanced concepts and mission skills earlier and in a lower-cost platform, extending the life of more costly advanced training aircraft.
HBC obtained Federal Aviation Administration (FAA) type certification for its T-6B miiltary trainer aircraft on 2 September 2009.
Here's a T-6B in action taking off at Riat: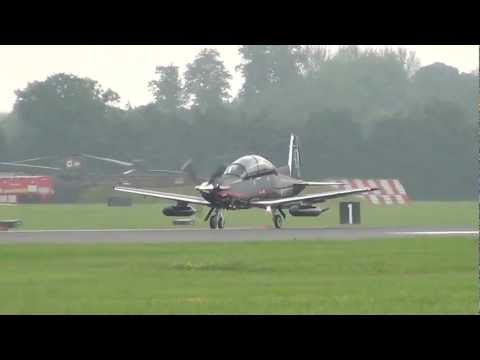 Senior Staff Writer
at
Defense News
Zach is the State Department correspondent, cyberwarfare, research & development and business reporter for Defense News.
Latest posts by Zachary Fryer-Biggs (see all)