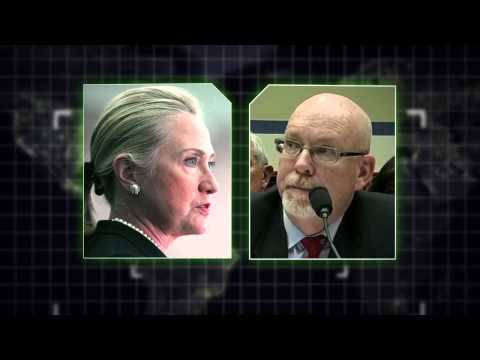 Congressional Democrats in recent weeks have wondered aloud just what is the endgame for their Republican cohorts in their renewed attacks on Obama administration officials past and present over the deadly Benghazi consulate attacks.
One, Senate Foreign Relations Committee member Barbara Boxer, D-Calif., said Tuesday she believes the GOP's efforts to find a smoking gun showing incompetence and/or a cover up at the highest levels of the administration is about one thing: Sinking a possible White House bid by former Secretary of State Hillary Clinton.
Speaking on the Senate floor, Boxer said, to her, the timing of last week's House Oversight and Government Reform Committee hearing on Benghazi, other GOP efforts to paint the administration has hiding something, and a television ad (above) from American Crossroads, Karl Rove's political organization, are anything but a coincidence.
"They are going after her for the 2016 election," an agitated Boxer said.
"Keep politics out of the IRS," Boxer said. "Keep politics out of Benghazi."
Boxer also delivered a broadside on Benghazi, blaming House and Senate Republicans for the attack because they insisted on big cuts to State Department embassy security accounts.
"At the end of the day, the issue is: Who cut money for embassy security?" Boxer asked rhetorically. "Everyone knows had we not cut funding for embassy security, it could have been a different outcome."
For that reason, Boxer boldly said "the Benghazi scandal starts with the Republicans."
Bennett is the Editor of Defense News' CongressWatch channel. He has a Masters degree in Global Security Studies from Johns Hopkins University.
Latest posts by John T. Bennett (see all)