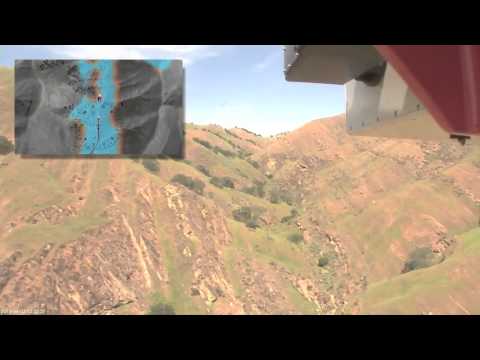 For the second time since November, the US Army was able to remotely operate a Black Hawk helicopter around the Diablo Range in California, using the bird as a test bed for trying to figure out what requirements the service may want / need in developing its own rotary-wing unmanned system at some point in the future.
During the November flight, the Black Hawk careened through the canyon for about two hours, covering 23 miles of uneven terrain before touching down in a forest clearing, hitting its target within one foot of the intended target.
The latest flight—which happened in May—moved the ball just a bit more down the field as the Rotorcraft Aircrew Systems Concept Airborne Laboratory, or "RASCAL," ran through "a series of key maneuvers, obstacles and other events human pilots encounter and react to during flight: Terrain Awareness, Avoid High-Power Lines, Avoid Other Aircraft, Selecting a Landing Area, and Exiting from a Box Canyon," according to an Army release.
The Army has been moving relatively slowly on developing a rotary-wing unmanned platform  — unlike their brothers in the Marine Corps, who have been happily flying the K-MAX unmanned cargo helicopter in Afghanistan since December 2011.
One of the two K-MAX birds the Marines have been using to ferry thousands of pounds of gear to its grunts in remote locations actually crashed on June 5 at a landing zone near Camp Leatherneck, though no one was hurt in the mishap, the Marines have said. No word yet on whether the system is a loss.
While service leaders have repeatedly said that they're closely following the Marine program, there hasn't been a lot of progress in developing their own system, as least publicly. In January 2012, the Army released a request for information looking for a cargo-carrying unmanned aircraft system that would be able to carry cargo up to 300 nautical miles at airspeeds of at least 250 knots while carrying 5,000 to 8,000 lbs. – but they've been pretty mum about the whole idea since.
Congress looks like it's ready to begin prodding them, however.
In its markup of the fiscal year 2014 defense bill, the House Armed Services Committee said that its members are "concerned that the Army, despite having very similar logistical challenges [as the Marine Corps] does not have a cargo UAS program."
Therefore, the committee wants to Secretary of the Army to deliver a report to Congress by February 2014 about what the Army's plans are for developing such a system.
McLeary covers national security policies at the White House, Pentagon, the Hill, and State Department.
Latest posts by Paul McLeary (see all)