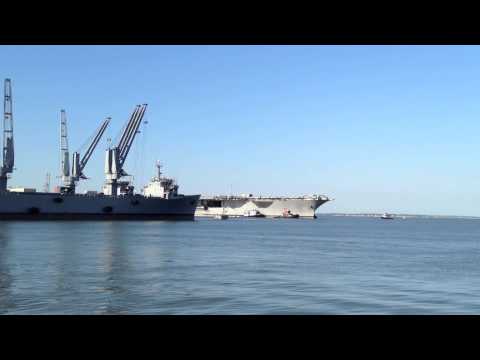 The formerly mighty USS ENTERPRISE (CVN 65) made a sad trip across Hampton Roads on the morning of June 20, towed from Norfolk Naval Base back to Newport News Shipbuilding, the shipyard that built her back in the late 1950s and early 1960s. On board were more than a hundred shipbuilders who worked on the ship Back When.
Big E was ceremonially deactivated on Dec. 1, 2012, almost a month after completing her final deployment. Since then, Sailors and civilian workers have cleaned out the ship and removed many tons of equipment. The ship's famous profile already has changed, with the removal earlier this year of the upper island structure.
The short intra-harbor June 20 movement is not the E's final voyage. Eventually — probably in 2016 — the hulk will be towed from Virginia all the way around Cape Horn to the Puget Sound Naval Shipyard in Bremerton, Wash., where all U.S. nuclear ships go to die.
By the time the ENTERPRISE is fully recycled, she will become the largest warship ever to be scrapped, eclipsing the current record-holder, the carrier USS CORAL SEA (CV 43).
Huntington Ingalls put together this video to mark the ship's return to the shipyard.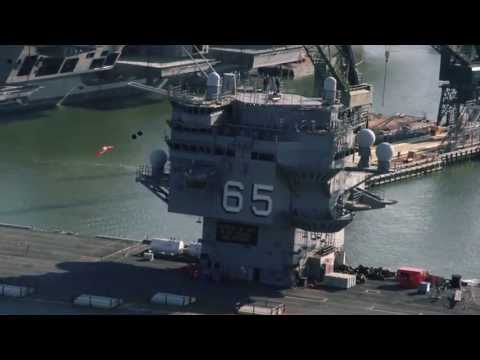 WAVY-TV Channel 10's legendary Art Kohn reports on the ENTERPRISE's move to Newport News and what it means for the shipyard.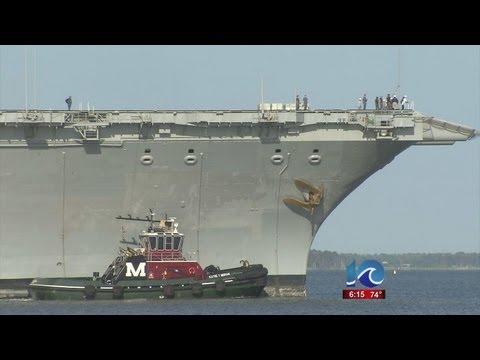 Just to give a feel for how long the ENTERPRISE has been in service, here's a video from the early 1960s about the carrier. Produced – ironically for a nuclear-powered ship – by the American Petroleum Institute, it'll probably tell you far more than you want to know about lubricating oils … but it features some great images of the Big E when she first entered service.  
If it's on, over, under or around the water, I write about it. Ships and aircraft, units, tactics, leadership, strategies, acquisition, politics, industry. In the USA and around the world.
Latest posts by Christopher P. Cavas (see all)