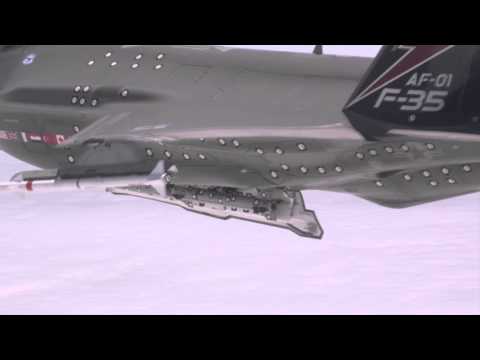 The last few months have seen a change on the book on the F-35 Joint Strike Fighter. In February, when a fleet-wide shutdown was put in place following the discovery of an engine problem, the program was still mired in its role as the poster child for everything that is wrong with Pentagon program.
Since then, costs of the program have dropped $4.5 billion, the purchase of a fifth batch of engines are completed, and the program has identified when each service will have operational fighters. Wednesday, the House Armed Services Committee roundly killed a proposal to freeze work on the fifth generation fighter.
The good news for supporters of the program got a little better today, with the first in-flight missile test now successfully completed. From a Joint Program Office press release: 
An F-35A conventional takeoff and landing (CTOL) aircraft completed the first in-flight missile launch of an AIM-120 C5 AAVI (AMRAAM Air Vehicle Instrumented). The flight was conducted by U.S. Air Force Lt. Col. George "Boxer" Schwartz. The aircraft, known as AF-1, launched the missile over the Point Mugu Sea Test Range from the internal weapons bay.
This is the first launch where the F-35 and AIM-120 demonstrated a successful launch-to-eject communications sequence and fired the rocket motor after launch – paving the way for targeted launches later this year in support of Block 2B fleet release capability.
Moving into the active phase of weapons test is another large step toward delivering Block 2B software capability that will enable initial combat deployment. "We've spent years working on the design of the aircraft, and many months ensuring that weapons could be contained within the aircraft and dropped as designed. This event is the result of tremendous effort and collaboration in the F-35 Enterprise, and marks a turning point in F-35 capabilities; the AIM-120 launch is one small but critical increment toward proving combat capability,"  said Charlie Wagner, F-35 Weapons Director.
The F-35 has ten weapon stations and can carry a payload up to 18,000 pounds. The fifth-gen fighter has already tested bomb releases.
Air Warfare Correspondent
at
Defense News
Aaron covers the Air Force for Defense News. In his spare time, he tweets about the Air Force for Defense News. Follow him @AaronMehta
Latest posts by Aaron Mehta (see all)