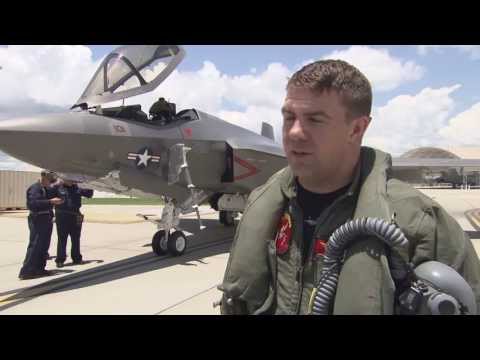 The U.S. Navy's first operational squadron to operate the F-35C Joint Strike Fighter (JSF) received its first aircraft on Saturday, June 22, when CF-6 arrived at Eglin Air Force Base in Florida. The aircraft was piloted by Lt. Cmdr. Christopher Tabert, an F-35C instructor pilot with Strike Fighter Squadron 101 (VFA-101), who landed after a two-hour flight from Fort Worth, Texas.
VFA-101, based at Eglin, will become the F-35C Fleet Replacement Squadron, training aircrew and maintenance personnel to fly and service the aircraft.
The C is the carrier variant of the JSF, with a different wing, more robust landing gear and a tail hook for carrier operations. The F-35A is operated by conventional land-based air forces, while the F-35B short-take-off-or-vertical-landing (STOVL) version is to be operated by the U.S. Marine Corps and several foreign partners.
Developmental testing of the F-35C continues, but the aircraft is not yet operational. In particular, work continues on software, helmet development, and improving the tailhook arrangement. 
If it's on, over, under or around the water, I write about it. Ships and aircraft, units, tactics, leadership, strategies, acquisition, politics, industry. In the USA and around the world.
Latest posts by Christopher P. Cavas (see all)