Underway off in the Gulf of Tonkin on July 29, 1967, the aircraft carrier USS Forrestal (CVA 59) was preparing to launch combat strikes on North Vietnam. Suddenly, a series of incidents and accidents took place among the bombed-up and fully-fueled aircraft packed on the flight deck. Wind blew the safety pin off a Mark 32 Zuni 5-inch rocket mounted on an F-4B Phantom fighter. An electrical power surge accidentally fired the missile, which struck an external fuel tank on an A-4E Skyhawk attack bomber and knocked two 1,000-pound bombs to the deck. JP-5 fuel sprayed out and almost instantly caught fire. Fuel ignited, bombs exploded, and an enormous conflagration erupted at the aft end of the flight deck.
At least nine large bombs exploded. Burning fuel and exploding ordnance threatened all those who moved in to fight the fires, which spread below decks and trapped sailors in several compartments. Sailors risked their lives to roll bombs and missiles over the side before the ordnance could blow up.
The nearby destroyers USS Rupertus (DD 851) and USS George K. MacKenzie (DD 836) moved close alongside to spray water on the fires. Medical teams and fire-fighting equipment from the carriers USS Bon Homme Richard (CVA 31) and USS Oriskany (CVA 34) were sent over.
The fires burned out of control for more than three hours, and were eventually extinguished the next day. The ship would survive, but 134 crewmen were dead, along with 161 injured. Twenty-one aircraft were destroyed. 
One of the wounded was Lt. Cmdr. John McCain, pilot of a Skyhawk that was alongside the A-4E from which the Zuni was launched. McCain later transferred to the Oriskany and continued flying combat missions until October 1967, when he was shot down and captured. Released in March 1973, he was later elected to the U.S. Senate and ran for president in 2008.
The Forrestal was eventually repaired at Norfolk Naval Shipyard in Virginia, returning to service in April 1968. The severe damage and the ship's survival showed how hard to kill modern aircraft carriers are – a lesson tragically repeated in January 1969 when a similar incident took place aboard USS Enterprise (CVAN 65). Twenty-seven sailors died and 314 were injured in that fire, which began, ironically, when another Zuni rocket exploded.
The Forrestal continued in service until being decommissioned in September 1993. The ship today is stored at the former Philadelphia Naval Shipyard, awaiting a final fate.
This account of the fire was compiled in the fall of 1967 by Senior Chief Journalist John Burlage. After retiring as a Master Chief, Burlage embarked on another distinguished career as the personnel reporter for our sister publication Navy Times.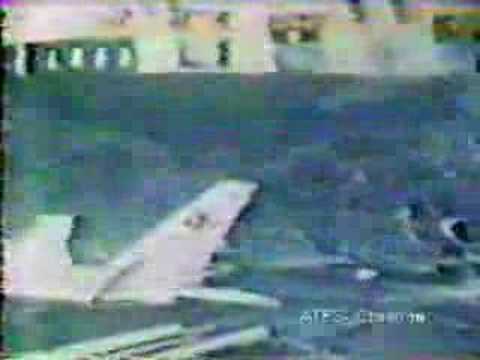 If it's on, over, under or around the water, I write about it. Ships and aircraft, units, tactics, leadership, strategies, acquisition, politics, industry. In the USA and around the world.
Latest posts by Christopher P. Cavas (see all)