The cutter Hamilton (WMSL 753) was launched Aug. 10 by the Ingalls Shipyard of Huntington Ingalls Industries as National Security Cutter (NSC) production continues at the Pascagoula, Miss., facility.
The float-off took shipbuilders several days to accomplish. "It's a weeklong process to first translate the ship across land into our floating drydock," Jim French, the shipyard's NSC program manager, said in a press release. "Translate" refers to the movement of a new ship from building blocks to transporters and into the floating drydock, "translating" from ashore to afloat.
The Hamilton is to be formally christened Oct. 26 by her sponsor, Linda Kapral Papp, wife of Coast Guard commandant Adm. Robert Papp. Delivery is to follow about a year later.
Ingalls also is at work on the next NSC, the James (WMSL 754). Fabrication began on the ship began in May 2012, and a keel-laying ceremony was held May 17. Launch of the James, which is about a third complete, is expected in the spring of 2014.
Work also has begun on the sixth NSC, Munro (WMSL 755), and a contract for advance long lead procurement has been awarded for the Kimball (WMSL 756). The NSCs are referred to by the Coast Guard as the "Legend" class.
The first of class, Bertholf (WMSL 750), was commissioned in August 2008. The Legends are the first large ocean-going cutters built for the Coast Guard since the Hamilton class of the 1960s.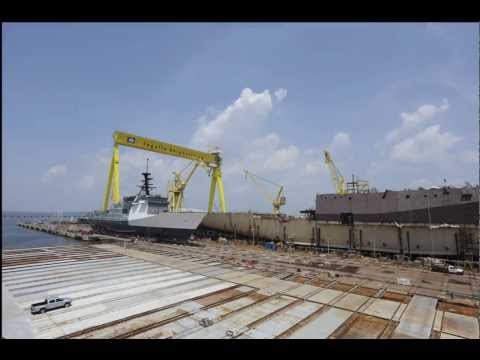 If it's on, over, under or around the water, I write about it. Ships and aircraft, units, tactics, leadership, strategies, acquisition, politics, industry. In the USA and around the world.
Latest posts by Christopher P. Cavas (see all)