Friday blues got you down? We here at Intercepts have the answer.
Below the fold is video of SpaceX's experimental Grasshopper rocket hitting a new record height, 744 meters up into the sky. What differentiates this from most rocket launch video is the angle. SpaceX had a remote controlled camera hovering above the rocket, giving you a birds eye view of the launch – and return- of the Grasshopper.
Check below the fold for the video of the Oct. 7 launch.
From a SpaceX press release:
Grasshopper is a 10-story Vertical Takeoff Vertical Landing (VTVL) vehicle designed to test the technologies needed to return a rocket back to Earth intact. While most rockets are designed to burn up on atmosphere reentry, SpaceX rockets are being designed not only to withstand reentry, but also to return to the launch pad for a vertical landing. The Grasshopper VTVL vehicle represents a critical step towards this goal.
Translation – SpaceX is trying to make a rocket go up to space and then return home, intact, for a controlled landing at the very spot it took off from. If the technology works, it could lead to huge cost savings for space flight. The company has a long way to go, obviously, but the Elon Musk-backed venture has shown the concept can work for at least small bursts.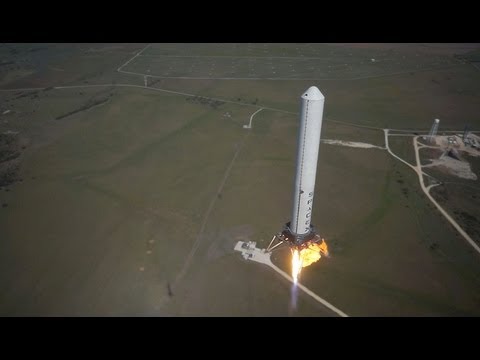 Air Warfare Correspondent
at
Defense News
Aaron covers the Air Force for Defense News. In his spare time, he tweets about the Air Force for Defense News. Follow him @AaronMehta
Latest posts by Aaron Mehta (see all)