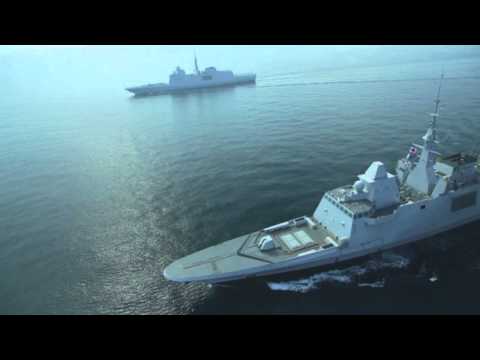 AQUITAINE (D 650) and NORMANDY (D 651), the first two FREMM frigates built for the French Navy, conducted interoperability tests off the Atlantic coast on June 24. The event was marked with this video from shipbuilder DCNS.
The rapidly-spinning pyramid-shaped object atop the forward superstructure is the Herakles multi-function S-band radar from Thales.
France plans to build 11 ships of the class. One, the DCNS-built MOHAMMED VI, was delivered last fall to Morocco. Ten ships of an Italian FREMM variant, the CARLO BERGAMINI class, are being built by Fincantieri at Riva Trigoso.
If it's on, over, under or around the water, I write about it. Ships and aircraft, units, tactics, leadership, strategies, acquisition, politics, industry. In the USA and around the world.
Latest posts by Christopher P. Cavas (see all)