US Navy's new Triton UAV makes first cross-country flight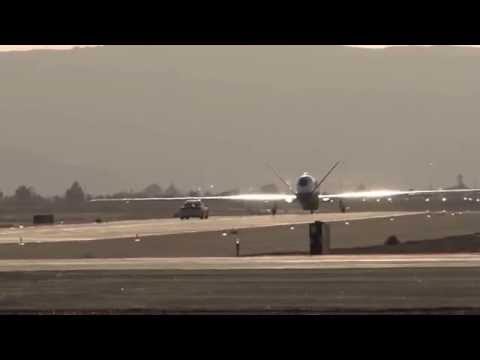 The US Navy's new MQ-4C Triton unmanned aircraft completed its first cross-country flight on the morning of Wednesday, Sept. 18, 2014, taking about 11 hours to fly 3,290 nautical miles from Palmdale, California, to Naval Air Station Patuxent River, Maryland.
Flying in restricted conditions through US airspace, the aircraft flew along the southern US border, across the Gulf of Mexico and across Florida using an approved instrument route. From the Sunshine State, the aircraft came up the Atlantic Coast to the Chesapeake Bay, reaching altitudes above 50,000 feet to avoid conflicts with civilian air traffic.
The ferry flight came after the aircraft completed initial flight testing at Northrop Grumman's facility in Palmdale. At Pax River, the Triton will begin operational tests to prove out the full system, including sensor, communications and interoperability testing.
The Triton was developed from Northrop's RQ-4B Global Hawk unmanned aerial system, optimized for long-range missions in a maritime environment. While externally similar to the Global Hawk, the MQ-4C features a new wing and reinforced airframe. New de-icing and lightning protection systems have been installed to allow the aircraft to descend through cloud layers for close-up looks at ships and other items of interest on and in the sea.
Originally known as the Broad Area Maritime Surveillance system (BAMS), the aircraft first flew in May 2013.
Intended to cruise the oceans and coastal regions, Triton will carry out intelligence, surveillance and reconnaissance (ISR) missions and perform maritime patrol and search and rescue tasks. The aircraft will have an unrefueled endurance of 24 hours, able to fly higher than 10 miles above sea level, able to cover more than a million square nautical miles in a single mission.
Prime contractor for the Triton program is Northrop Grumman Aerospace Systems, Battle Management and Engagement Systems Division, in Rancho Bernardo, California. The aircraft is powered by a Rolls-Royce AE 3007H turbofan engine, the same powerplant installed in the Global Hawk.
The Navy plans on buying a total of 68 Triton aircraft.
Specifications
Wingspan: 130.9 ft (39.9 m)
Length: 47.6 ft (14.5 m)
Height: 15.4 ft (4.6 m)
Gross Take-off Weight: 32,250 lbs (14,628 kg)
Max. Internal Payload: 3,200 lbs (1,452 kg)
Max External Payload: 2,400 lbs (1,089)
Self Deploy: 8,200 nm (15,186 km)
Max. Altitude: 56,500 ft (17.22 km)
Max. Velocity: 331 knots True Air Speed (TAS)
Max. Endurance: 24 hrs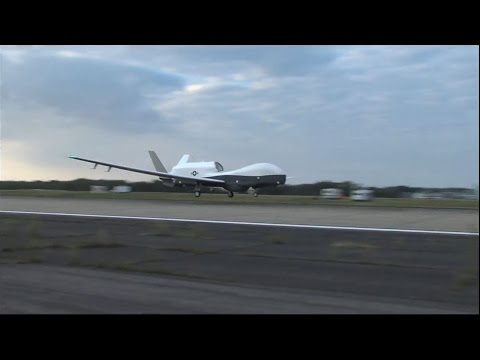 Video – The Triton touches down at Naval Air Station Patuxent River, followed by interviews and commentary with Rear Admiral Mat Winter, Program Executive Officer for Unmanned Aviation and Strike Weapons, and Triton program manager Captain Jim Hoke. (US Navy)
If it's on, over, under or around the water, I write about it. Ships and aircraft, units, tactics, leadership, strategies, acquisition, politics, industry. In the USA and around the world.
Latest posts by Christopher P. Cavas (see all)