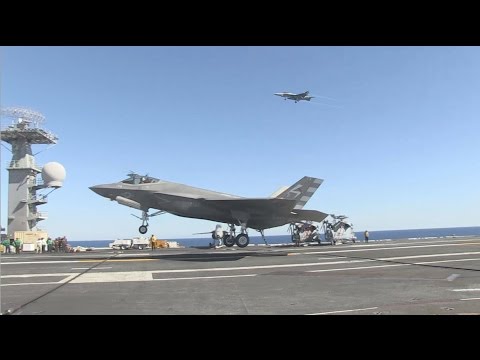 With US Navy test pilot Commander Tony Wilson at the controls, an F-35C Lightning II of Air Test and Evaluation Squadron 23 (VX-23) lined up on the aircraft carrier USS Nimitz off the California coast early Monday afternoon and swooped in to make the first arrested carrier landing of the Joint Strike Fighter (JSF) carrier variant.
It was the first of many launch-and-recovery cycles expected to be carried out over the next two weeks, part of the type's initial at-sea Developmental Testing I (DT-I) period.
Two VX-23 F-35Cs flew cross-country from their base at Naval Air Station Patuxent River, Maryland to carry out the tests aboard the Nimitz. The aircraft, the Navy said, will perform a variety of operational maneuvers, including catapult takeoffs and arrested landings. Flight test operations will also include general maintenance and fit tests for the aircraft and support equipment, as well as simulated maintenance operations.
CF-03, the aircraft that performed the first landing aboard the Nimitz, was also the first F-35C fitted with a redesigned production tailhook. Reliability problems discovered in 2012 were traced back to the hook itself, and Lockheed Martin and Navy engineers reshaped the hook point and made other adjustments. Tests of the redesigned hook were completed in January at Naval Air Engineering Station Lakehurst, New Jersey.
The F-35C is one of three JSF variants being built by prime contractor Lockheed Martin for the US Air Force, Navy and Marines, and a host of foreign air forces. Years of testing for the carrier variant still lie ahead, with the aim of becoming operational in 2018.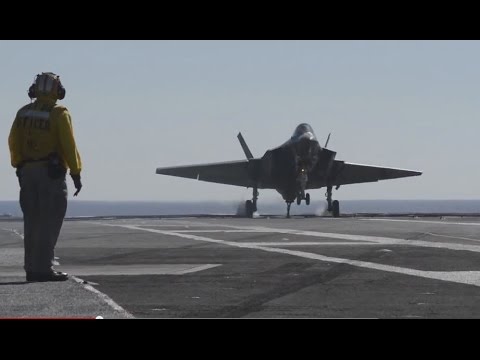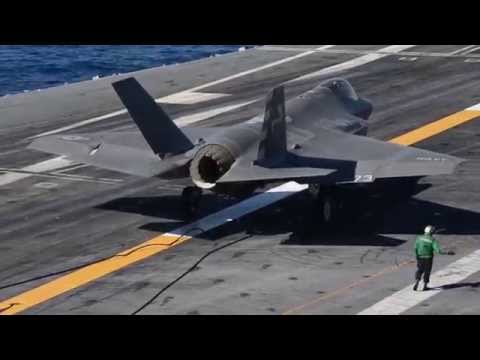 If it's on, over, under or around the water, I write about it. Ships and aircraft, units, tactics, leadership, strategies, acquisition, politics, industry. In the USA and around the world.
Latest posts by Christopher P. Cavas (see all)